in Lorien Fenton – The Wild WordPress Woman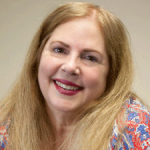 Ms. Fenton has been the director of her own educational art nonprofit since 1992 and has served as Administrative Director for several nonprofits since 1988. They include, The Marin Chapter of the California Association of Marriage and Family Therapists (2005-2010) and The California Dance Education Association (2004-2010).
She has served on numerous boards, including The Playhouse in San Anselmo, where she was also the webmaster for over a decade (1995-2006). She served as webmaster for COLLABORATION! Dance and Music, a nonprofit dance and music festival held at the Marin Center and Fort Mason's Cowell Theater for 10 seasons (1999-2009).
Her web design career began as an offshoot of being hired as a graphic designer for a corporate training company in 1990 (she has won awards for book design – both cover and interior, magazine advertising and marketing material).
Lorien discovered WordPress in 2009 and hasn't "really coded since". Her passion for WordPress grew to the point where, for almost a year, she was driving all over Northern California to attend WordPress meetups. She then started her own WordPress Meetup – Wine Country WordPress – running that monthly meetup for over two years.
She has been designing nonprofit, art events and conference websites, as well as the occasional restaurant, hair stylist, dog sitter, soap maker, and other small business websites for almost 25 years.
She is rooting for WordPress to take over the web completely so every person on the planet can create a beautiful website with ease.
Lorien was recommended to help me produce an event. I was told she was "full service" when it came to producing conferences, but I had no idea what a fabulous graphic and web designer she is. She has integrated her amazing design talent into her event management business.
Because she covers all bases, we are now working together on several events a year and all our websites are highly attractive and functional.
Hire the WILD WP Women, you'll be WILDLY happy with the results.